Seedstars connects over 85 countries and ecosystems and is preparing for its annual LatAm summit in Lima, Peru on December 6th ahead of its flagship world summit next April in Switzerland.
The Invitation-only Seedstars LatAm Summit is a place where startups in emerging markets can learn, socialize and take advantage of more opportunities than ever before.
"Only 44% of impact investments are for emerging markets."
Juliane Butty
Speaking to Juliane Butty, Seedstars Regional Manager for LatAm and the Caribbean, The Sociable explained that the LatAm Summit will serve as a starting point for stakeholders in the region to showcase their talents.
Butty stated that the LatAm Summit is a place where startups "learn, discover new technology, and develop new best practices" by connecting with the right people under one roof.
For emerging markets like Latin America, Seedstars provides a place where mentors, investors, and entrepreneurs are part of a community that understands the needs, constraints, and resources of each region.
"So far, there is not enough investable deal flow in emerging markets. In fact, only 44% of impact investments are in emerging markets, "said Butty.
"We bet that we have a better and faster chance on site to change this relationship. To give just one specific example, it is very difficult to access reliable data from ecosystems in emerging markets online. Take a look at Crunchbase or Pitchbook, they mainly have data from investors and startups from developed countries. As an investor, we need better data to see where opportunities arise.
"We are ready to invest in this local presence for better investments, better understanding and more opportunities later."
The benefits for startups include:
Have a great place to connect.
Organized one-on-one meetings between entrepreneurs, investors and mentors.
Business and investment opportunities.
Explore new technologies and find new best practices.
A place where you can learn how to solve specific problems (e.g. education, access to finance, supplies to non-banks, etc.).
Holding workshops where everyone can share insights and learn from each other.
While these types of benefits can apply to just about any other technology or startup conference, the real measure of their value is determined after the events take place. It's one thing to sit around and talk; It is a different matter to take action.
"We looked after over 2,000 startups in Latin America only."
The Seedstars LatAm manager explained the company's "No BS" approach and highlighted several startups that have been successful after attending the Seedstars LatAm Summit.
She has a lot for success. After participating in the first LatAm summit in 2016, Ultracasas secured the largest financing round of all startups in Bolivia's history, of which Seedstars co-invested in the follow-up.
"We looked after over 2,000 startups in Latin America only. Two years ago we started our growth program on a global level. Of the two batches, six startups came from Latin America. This program gave them access to our scale-up methodology, personal mentoring, and a $ 30,000 investment. After the program, 87% of the batch received funding, "said Butty.
"The Seedstars experience has generated a deep understanding of my business and of me as an entrepreneur."
At last year's LatAm summit in Mexico, Argentina-based startup Alquilando made connections during a one-on-one conversation that later resulted in a capital injection.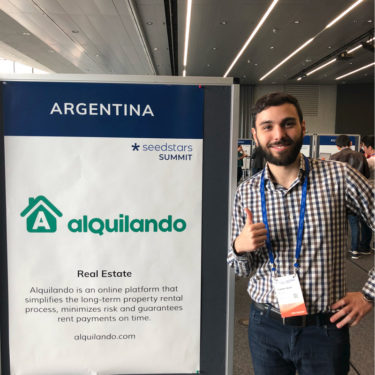 Carlos Missirian
"The Seedstars experience has generated a deep understanding of my business and me as an entrepreneur," said Carlos Missirian, COO of Alquilando in Comercio Y Justicia.
The Seedstars LatAm Summit bridges the gap between ecosystems and connects regional stakeholders to promote and promote entrepreneurship and technology in emerging markets, to impact people's lives and to achieve the United Nations Sustainable Development Goals (SDGs).
"Having a local presence gives us a better overview of the deal flow in the country and a better position to connect the right people with one another. The aim is to increase the quality and quantity of investable startups, "said Butty.
12 startups at the Seedstars LatAm Summit
The lack of funding is one of the most important challenges startups face today, especially in emerging markets where entrepreneurial ecosystems are still a bit shaky.
This year, the Seedstars World Tour of Latin America selected 12 startups to attend the Seedstars LatAm Summit and get the chance to battle for up to $ 500,000 in stock investments at the 2019 Seedstars Summit on April 5th in Lausanne, Switzerland.
The 12 startups are:
Ecuador
SpeakLiz
Approximately 470 million Deaf people around the world want to communicate with hearing people but speak different languages. SpeakLiz breaks that barrier forever.
Mexico
Tabed
A Shopify for the independent hotels. The solution helps its customers sell their services without relying on third parties and paying high commissions.
Peru
Rebajatuscuentas.com
RebajaTusCuentas.com is a financial advisor that helps reduce a customer's payments for commercial products.
Argentina
Mixed
Blended is the most popular school management system in Argentina.
Dominican Republic
taste
Okus is a digital tool that acts as a smart assistant for teachers and parents and a virtual tutor for students.
Colombia
Hometuls
Hometuls offers a groundbreaking finance and procurement service for small and medium-sized businesses through an easy-to-use digital platform.
Chile
Queplan.cl
An online platform that helps people choose health insurance on the best terms.
Bolivia
Panal fresh
A platform for the delivery of fresh food.
Costa Rica
Deft sport
Defter Sports helps coaches, players and parents of Latin American football communicate better with one another.
Brazil
appetite
The best delivery app connecting chefs and customers looking for healthy meals made with fresh ingredients.
Panama
Fortesza
A crowdfactoring platform that connects small and medium-sized businesses in need of financial support with investors from around the world.
Guatemala
Doctor Online
A digital platform that gives doctors instant remote access via chat or video conferencing from any device (web, iOS, Android) for the insurance industry.
After the Seedstars LatAm Summit, the startup teams prepare for the global competition at the Seedstars Summit in Switzerland.
The event will bring together around 2,000 participants from five regions – Latin America, Asia, Africa, and Central and Eastern Europe – to discuss the burning problems in emerging economies and select the global winner.
Disclosure: This article contains a client of an Espacio portfolio company